Adds a linked label to the form.
The user enters:
| | |
| --- | --- |
| • | The text they want to display in the Name box. |
| | |
| --- | --- |
| • | A URL which will be the source that they want displayed when the link is clicked (Note no checks are made on the syntax or validity of the URL e.g. http:///www.exploringea.com) |
To access a file "file:///C:/users/fred/downloads/pdf1 test file.pdf"
To access a web page "http://www.myserver.com"
| | |
| --- | --- |
| • | Any optional arguments which will be appended to the URL at run time when pressed. |
and press the Save button
When displayed on the builder form it will display "Link:" plus the Name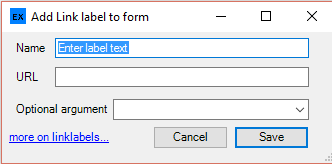 Using a data source as the target address
There is an option to use a tagged value as the source of the target address. To enable this feature leave the URL box empty and select the source item from the Optional argument is used as the data source e.g. a tagged value which will contain a valid URL that can be the target at run time. NOTE: No checks are made on the validity of the URL that is read!